7 Generations African Heritage Culture Camp
Louisville, KY, USA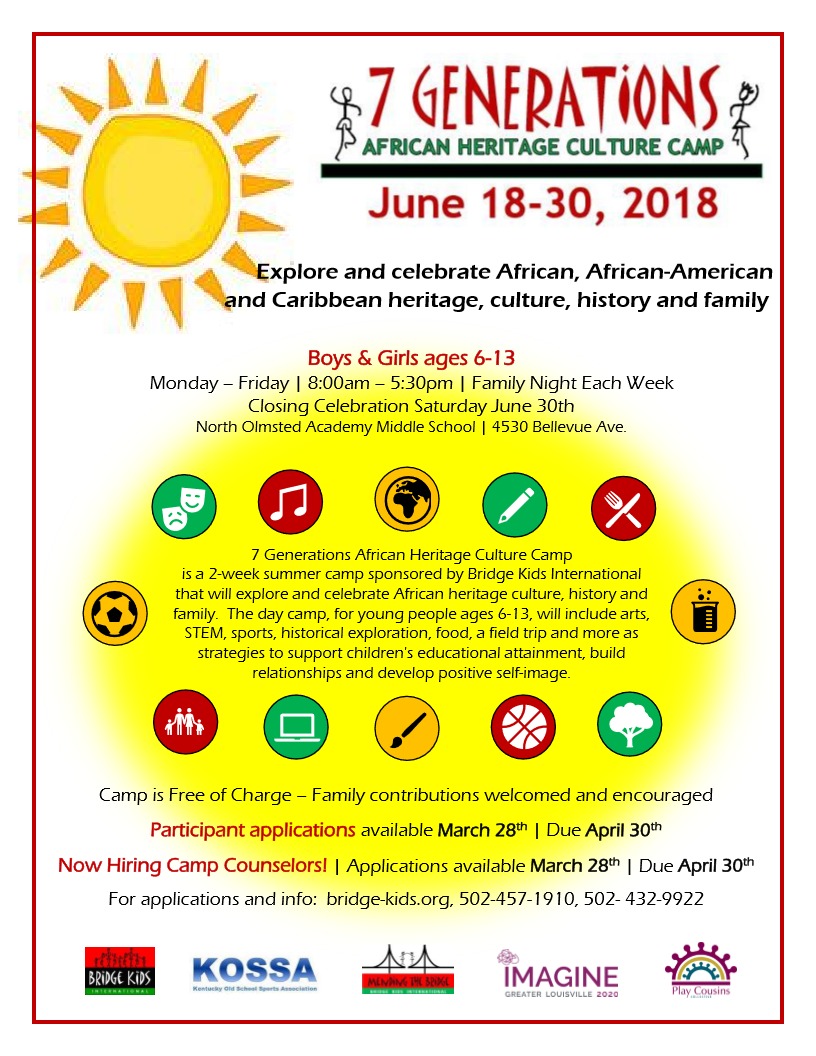 Apply Now!



Camp Overview

Selection Process Dates:
Applications are due April 30th. Participants will be notified of their acceptance by May 16th.
Camp Dates:
June 18-30, 2018. The camp will be Monday-Friday. The closing celebration will be on Saturday June 30th.
Hours:
Camp Hours are 8am - 5:30pm.
Location:
North Olmsted Academy Middle School – 4530 Bellevue Avenue, Louisville, KY 40215
Family Nights and Closing Celebration:
Wednesdays, June 20th and 27th we will have "Family Night" where parents and siblings will be invited to share dinner and have activities. Parents will be asked to provide food. The Closing Celebration will be held on Saturday June 30th.
Participants:
30-40 kids, ages 6-13 - There will be 3 groups, ages 6-8, 9-11, 12-13
Language:
We are excited about the diversity we anticipating at the camp. While we wish we had the ability to accommodate several languages, at this time camp activities will be conducted in English.
Staff:
There will be 2 camp counselors per age group, lead counselor, camp director, and camp committee.
Activities:
Dance

Music
Performing Arts
Thai Chi
STEM
Language Arts
Visual Art/Crafts
Sports – Soccer and basketball
Outdoor Games

Chess/ Games
Community Service Project
1 Field Trip (Buffalo Soldiers Camp)
Closing Performance/Showcase