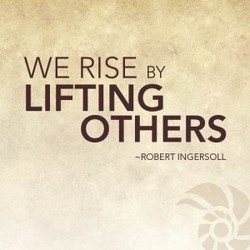 Hey there Beautiful People! We are so happy you found your way to our new blog here at Bridge Kids (BK) International. BK is a global non-profit organization helping young people of Africa and the African Diaspora, aged 13-25, unleash their social entrepreneurial spirits to solve economic development, education, environmental, girls' rights, and health challenges and build sustainable communities. We are all about empowering young folks y'all & that is something that the world needs MUCH more of! Look at the news, young people can innovative, creative & hold the capacity to be incredible change-makers -- they just need to be empowered.

I'm passionate about what we do because it is tangible, it's real & you can actually see the people you are helping. Bridge Kids is about empowering others; we don't believe in just giving hand outs and/or temporary solutions - we strive for sustainability!

Bridge Kids members and groups are actively working on sustainable projects in Ghana, Senegal, Malawi, Louisville & several other countries. We have so many incredible things going on within this organization & we want you to be a part of it too! Here are the Top 5 Reasons You Should Get Involved!

#5. Charitable giving is often a tax-deduction!
While we believe your primary motivation to donate should be altruism & a desire to help others, we also know that it's important you understand the tax benefits that exist for those who give. A gift to a qualified charitable organization may entitle you to a charitable contribution deduction against your income tax if you itemize deductions. So keep your receipts somewhere safe & pull those bad boys out during tax time. The higher your tax bracket, the larger the reward for giving.

#4. Meet the people whose lives you are changing
Trust is everything in relationships, wether they be romantic, business, or philanthropic. Money is tight for a lot of people & we certainly do not believe in being wasteful. It is important to us that you get to know the faces of the people that your donations are helping. We have all been in situations where we needed a bit of help, we are all much more similar than we ever imagined. That's what makes Bridge Kids such a unique organization, we don't hide where the money goes. In fact, we show you their faces because we want you to connect to the lives you touch.
#3. You empower yourself by empowering others
There is nothing more powerful than improving the life of another; your life is always changed in the process. It's like the ultimate win-win situation when you think about it. Giving connects us to our neighbors, it's food for the soul, it fills you up with warmth because you know that your giving has made someone else' load lighter. It's what we are put on this earth to do (in my opinion) -- to help meet the needs of others. No one has ever gone broke from giving; if anything is true, it is that great things come to those who give to others selflessly.
#2. Long-Term Sustainability >> Temporary Solution/Quick Fix
We are all familiar with the saying, "If you give a man a fish, you feed him for the night. If you teach a man to fish, you feed him for a lifetime". Close your eyes and really mediate on what that passage means. Essentially, that phrase is talking about sustainability vs. temporary solution. If someone is starving, giving him food certainly makes an impact, there is no doubt about that. But, you can also be guaranteed that he will be hungry again the next day -- what then? Simply giving food is just a bandaid to the true problem. Bridge Kids empowers young people to work hard for their own lives by offering sustainable solutions that generate economic stability. We don't just 'give' food, we buy them seeds so they can plant their own food to sell and eat. We help groups purchase cows so that they can sell the milk and clothe themselves, instead of just sending them old clothes. Can you tell the difference in the long-term effects of sustainable development vs. quick fix giving?
#1. 100% of your giving goes directly to the people
​I could write up an entire blog post/rant on 'popular charities' and the dismal percentage of donor dollars that actually goes to the people -- but I'll save that for another day. Do some research on it though, It's really quite sad how manipulative some organizations can be; it's disrespectful and misinforming. Here at Bridge Kids, we guarantee that every dollar you give towards a cause goes directly to those in need. For example, we are currently fundraising $1500 for our Malawi group to start their farm. So, when we say we are sending $1500 to them for seeds & equipment, we stand behind every cent & guarantee that your money is changing the lives of the people you intended your money to help. We don't take your giving lightly, we honor & respect all help given!
Click here to donate to Malawi Group!
(scroll down to the bottom of the front page). The government is giving them land but we need to help them buy seeds & equipment. Let's invest in these young people & help them secure a better life for themselves!
One person can change the world! It starts with us! It starts with you! Get involved!