The Latest from Bridge Kids International

Bridge Kids International Director Chosen as a 2016 Alden FellowBridge Kids International's executive director Stacy Bailey-Ndiaye is a 2016 Alden Fellow! The Community Foundation of Louisville's



Alden Fellows Leadership Development Award is designed to strengthen nonprofit organizations by helping nonprofit leaders have access to high quality professional development opportunities. By invitation, nonprofit executives are asked to develop a plan for their personal and professional growth and five are selected to receive $5,000 awards as Alden Fellows.

Stacy is on a journey to explore where community revitalization meets social enterprise meets innovation. What she learns will help shape Bridge Kids' work at Our Place – Ben Washer Park in Louisville and reverberate throughout the organization worldwide.Her first stop will be a week-long NeighborWorks America Institute where she'll take courses in community revitalization, neighborhood marketing, and human resources management. In April she'll travel to Los Angeles to get technical assistance in social enterprise from



Homeboy Industries,



which provides hope, training, and support to formerly gang-involved and previously incarcerated men and women allowing them to redirect their lives and become contributing members of our community. Homeboy Industries operates a bakery, café, screen printing shop, farmers markets and more. Finally, she will spend several days in New York City with Bridge Kids' partner organization Uncharted Play to learn how they foster innovation in their social enterprise. Uncharted Play is consumerizing and individualizing power access by embedding their proprietary technology for motion-based, off-grid renewable energy (M.O.R.E.) into everything that moves.

We'll keep you posted on Stacy's learning adventure. Thank you Community Foundation of Louisville for this amazing opportunity!
---
Bridge Kids Louisville Receives Martin Richard Bridge Builder Grant from generationOn for April Event

Bridge Kids Louisville received a $500 Martin Richard Bridge Builder Grant from

generationOn

for its new project First Friends Louisville. The grant promotes togetherness, compassion, peace and kindness and Bridge Kids Louisville used it to host A Day of Service and Friendship, connecting refugee youth with locally born youth.

On April 25th, a team of about 35 young people and their supporters helped at the Louisville Grows Seeds and Starts Sale to prepare the People's Garden for the growing season. With the help of STEAM Exchange, the group screen printed First Friends Louisville bags. Everyone had a great time as they worked together, enjoyed a multicultural meal together, and brainstormed ideas for how the city can better welcome young refugees.
---
Umoja Bridge Kids Farm Grows

Baby has arrived! Furaha, the cow of Umoja Bridge Kids (East Democratic Republic of Congo), gave birth to a female calf in January 2015. Mother and baby are both doing well.

The birth of the calf is big news for the farm as it lays the foundation for Umoja Bridge Kids' economic development project. Through sales of the cow's milk, they have already purchased chickens and plan to buy goats soon. As the farm grows, it will provide a sustainable source of income for the young people in the group.

Thanks to all of our friends who helped make it possible to purchase Furaha. Your investment in BK Congo is truly paying off!

---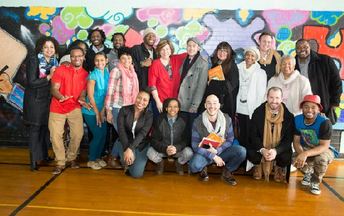 Louisville's Roots & Wings Selected as 2015 Finalist for ArtPlace America Grant Program
Louisville, KY--
ArtPlace America
announced today that a West Louisville initiative is a national finalist in the running for one of its prestigious arts innovation grants for 2015.
Roots & Wings, an initiative created by
The Kentucky Center for African American Heritage
in collaboration with
IDEAS 40203
,
Bridge Kids International
,
The Kentucky Center for the Performing Arts
, the
Louisville Cities United Collaborative
and
Metro Louisville Government Office for Safe and Healthy Neighborhoods
, is one of only 90 projects selected to become a finalist from 1283 entries nationwide.
If ultimately chosen, the grant would infuse more than $250,000 into West Louisville's creative economy. ArtPlace will announce its 2015 grantees in June.
Roots & Wings is a unique theatre project integrating art, poetry, dance, music and performance as catalysts for restoration of self and community in West Louisville's "Zones of Hope" neighborhoods including Russell, Shawnee, Parkland, California and Newburg.
The initiative expands, formalizes, deepens and elevates the work of the 2014 production of The
Smoketown Poetry Opera
- a unique theatrical performance produced by ArtPlace America grantees IDEAS 40203 /
YouthBuild Louisville.
Based on Lavel White's film by "
More Than Bricks And Mortar: The Sheppard Square Story
, the production was created with emerging African-American spoken word artists, filmmakers, dancers, musicians and DJs led by poet Lance Newman.
"We're excited to continue the work that started in Smoketown last year and to be able to use our art to help build our community. I am confident that we are ready to flourish. It feels like it is finally our time," said Newman.
Roots & Wings enlists the support of experienced arts and community mentors to support a group of emerging artists as they explore the links between traditional West African and Appalachian cultures. The group will also lead peer-to-peer poetry, music and performance workshops in the "Zones of Hope" neighborhoods.
"The result will be a new, interdisciplinary work of contemporary theater created by and with West Louisville's young people to lift up their stories of struggle and triumph," said Kim Baker, President of the Kentucky Center for the Performing Arts - an initiative partner.
The goal of Roots & Wings is to ignite cultural production in West Louisville's underutilized community centers and spaces while using the arts to help disrupt the school to prison pipeline and bring young people back into the community.
"The initiative crosses geographic, generational, and racial boundaries to celebrate Louisville's unique cultural narrative while re-imagining and reintroducing great neighborhoods through the story telling power of theatre." said initiative co-creator Stacy Bailey-Ndiaye, founding director of Bridge Kids International.
Ultimately, Roots & Wings will help to support further development of a lasting arts infrastructure in West Louisville by using the initiative as a springboard for developing a new urban theatre company to showcase emerging talent while providing place-based training in arts administration and advocacy.
"Louisville has amazing young African-American artists, we want them to know that they are supported, valued and heard," said initiative co-creator Theo Edmonds. "It is a privilege to be on this journey with these terrific young performers."
For more information, contact Roots & Wings co-directors Stacy Bailey-Ndiaye (502-457-1910 /
stacy@bridge-kids.org
) or Theo Edmonds (859-420-7620 /
theo@ideaslouisville.com
)
In addition to the Roots & Wings Project, Appalshop, located in Whitesburg, KY is also a national ArtPlace America finalist.
The full list of 2015 ArtPlace America finalists can be found here:
http://www.artplaceamerica.org/articles/2015-national-grants-program-finalists/
---
---
---
Clean Water for Ada, Ghana

Bridge Kids Ada in Lolonya, Ghana is working to install a water purification system in their community. It is the first step in their overall health project of improving sanitation in their village.

Bridge Kids Ada is currently testing the water in their community to ensure that the system will provide clean and safe water for residents. The M-100 system can purify up to10,000 gallons of water per day. Many thanks to WaterStep in Louisville, KY for working with Bridge Kids International to support BK Ada.



Their first project, My Book, My Friend is underway and is designed to improve literacy in their local primary school. Bridge Kids Ada is on the move, so let's support this dynamic group of young people as they help build a sustainable community!
---
African Heritage Festival in
Louisville, KY a huge success!


Bridge Kids International, the Kentucky Center for African American Heritage, Kentucky Old School Sports Association, and Dudley Q Kentucky Group hosted Louisville's 2nd African Heritage Festival on Saturday, August 23rd at KCAAH. The event was a grand celebration of unity, culture, art and history across the African Diaspora.




The

African Heritage Festival

was organized by a dynamic team representing a variety of countries and backgrounds. More than 900 people attended!

The

African Heritage Festival

is a celebration of African, African-American, and Caribbean cultures and is e a joyous day-long event for the whole family with great food, music, dance, theater, fashion, cultural demonstrations, children's activities, resources for healthy living and so much more. The day also featured a soccer tournament, basketball games and a volleyball clinic.
---
Bridge Kids International Finds a Home in Louisville, KY, USA

Bridge Kids International, Inc. in collaboration with the Limerick Association for Neighborhood Development, Inc., West St. Catherine Neighborhood Association, Inc., CityThink, Inc., and YouthBuild Louisville is proposing to renovate the building in Ben Washer Park.

In addition to serving as the U.S. headquarters of Bridge Kids International, the building will house programs related to social entrepreneurship for youth and young adults, intergenerational


activities, and global citizenship.

Our Place

will also serve as a model sustainable, high performance, healthy building in the city.

The first floor of the building will feature a breakfast and lunch café, supported by a certified kitchen. At the close of lunch, the first floor will be available into the evening hours for meetings, gatherings, and youth and young adult, cultural, senior, and intergenerational programs. Also housed on the first floor with be a small gift shop featuring culturally relevant books and crafts from local and international artisans from the countries where Bridge Kids operates. In keeping with Bridge Kids International's values of self-sufficiency and sustainability, the proceeds from the café and gift shop will help fund the operations of the building and programs provided there.




The heart of

Our Place

at Ben Washer Park will be the Think Lab, housed on the second floor. Designed in partnership with CityThink, the lab will feature the equipment, technology and, human and material resources that youth and young adults need to develop and implement their projects. From creating their own

products, to starting a business, to designing an innovative approach to a community problem, the ThinkLab will help young people flex their social entrepreneurial muscles.


In accordance with Bridge Kids International's mission and values, Our Place Ben Washer Park will be renovated using advanced green building techniques. Under the leadership of a sustainable designer/builder, the house will be revitalized as a model high performance, healthy building. It will be curated as an educational space allowing people to experience and interact with green design. Events related to healthy, sustainable living will be regular features at Our Place at Ben Washer Park.


The revitalization of Ben Washer Park is an important component of the effort. Bridge Kids International is working with the local government to secure a long term lease for the building and renovations can begin. The building, built in the late 1890s, has been vacant for more than 10 years. The project will be a new beginning for Bridge Kids and bring new life to the local community.

---
Bridge Kids Congo Gets a Cow!

With the help of our friends, we raised the funds for Umoja Bridge Kids to buy their first cow. Her name, Byishimo Furaha (Happiness) says it all!

We extend a special thanks to everyone who helped us raise $1,000 on our campaign on

wirecup.com. By the way, Byiahimo Furaha is expecting a calf!


What's next for the Umoja Bridge Kids Farm? From their milk sales, they plan to add a goat in the next couple months.

---
Team Visits Earth Brick Factory Site
Bridge Kids and partners are laying the groundwork for an earth brick factory in Saint-Louis, Senegal.

The factory is the first of the Build Kids Builds program which promotes economic and environmental sustainability. Under the guidance of architect Abass Sall and earth architect Doudou Deme, Bridge Kids will establish the factory, which will employ 9 people to start. Phase 2 will be an Economic & Community Development Center on the same site. The Rotary Clubs of Prospect Goshen in Louisville, KY, USA and Saint-Louis, Senegal are partnering in support of the effort.


Members of

Bridge Kids Senegal

are at the forefront of the project and the local government has shown tremendous support. Following official NGO recognition, Bridge Kids International will take possession of the land provided by the Domain and the brick factory will be underway!



Pro

ject objectives include

· create an earth brick manufacturing facility

· facilitate youth employment

· provide vocational training

· promote lower-cost, eco-friendly building

practices

· promote use of local expertise and

resources

· create sustainable source of revenue for

youth development programs