Our Place at Ben Washer Park will be the global headquarters of Bridge Kids International and a unique community gathering place centered around youth social entrepreneurship, global citizenship, intergenerational relationships, and sustainable living.

The Latest News from Our Place at Ben Washer Park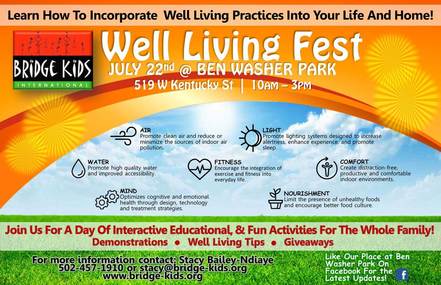 The team has chosen the Well Building standard as our goal and Our Place at Ben Washer Park will be one of the first buildings in Kentucky to achieve that certification. The holistic view of how space can relate to healthy lifestyles uniquely aligns with our vision for the project's impact on individuals, families and the community. (
https://www.wellcertified.com/
).
We are planning the Well Living Fest as a way to educate the local community about the project and get people involved in the features of Well Building:
AIR | LIGHT | WATER | NOURISHMENT | FITNESS | MIND | COMFORT
Check out our Facebook page for event updates!
---
---
The Vision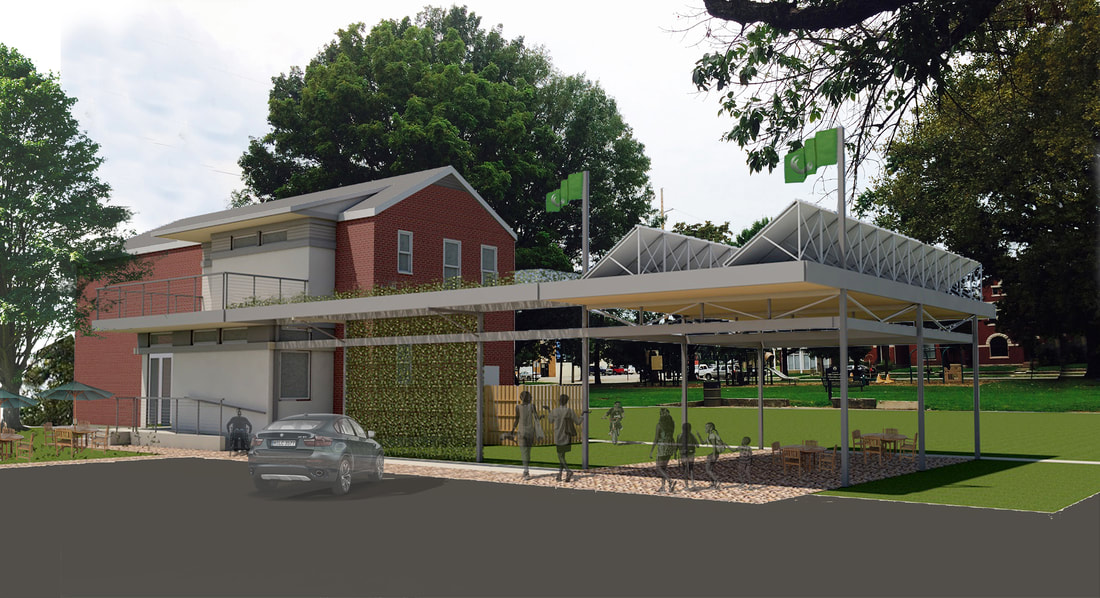 Activities at Our Place at Ben Washer Park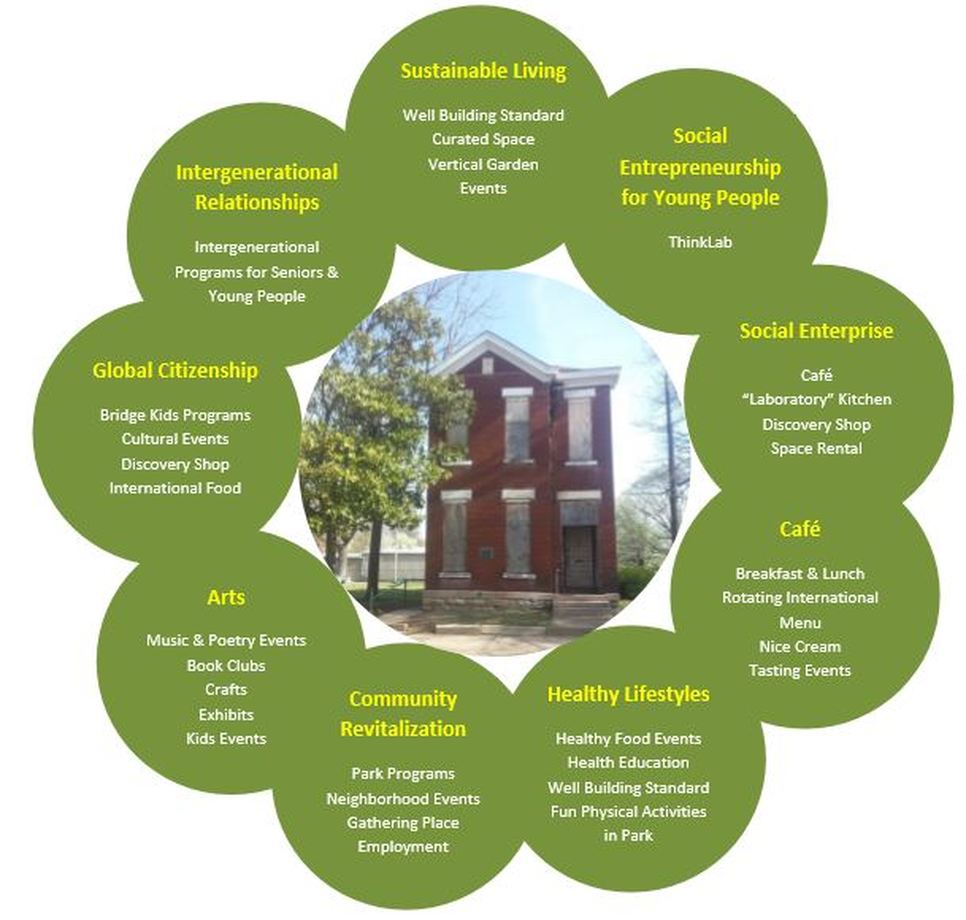 Ben Washer Park and the Limerick Neighborhood

Louisville's Ben Washer Park, located on North side of W Kentucky Street, between 5th and 6th Streets, has the potential to be a jewel in the Limerick neighborhood. The building, park, and playfield were gifted to the City of Louisville by noted attorney, judge, dean, civic leader, and philanthropist Ben F. Washer (1873-1963). Ben Washer Park was gifted to the City of Louisville to further the longstanding interest Washer held in youth and recreation. Today, with its vacant building, underutilized space, and uninspiring landscaping, the park is more often used as a place to loiter than a beacon for recreation. There is minimal playground equipment for children and seniors across the street at Christian Care Communities rarely use the park because it is perceived to be unsafe and unwelcoming. The building was built c. 1895 and was last used to serve the community in the form of a Metro Parks Better Home Service facility. Now having been vacant for more than 10 years, the structure is surprisingly sturdy. However, the façade is in disrepair and unless it is secured in the near future, has the potential to be a hazard to passersby. Like other vacant properties Louisville is struggling to address, if allowed to sit and further decline, the building in Ben Washer Park will become an eyesore, and remain a blight to an otherwise rejuvenating area.

The Limerick neighborhood is rich in history, cultural diversity, and potential. Listed both on the National Register of Historic Places (NRHP: 1978, 1983) and made a Local Preservation District (1979), the neighborhood no doubt has historical significance. Interestingly, Limerick has had an impact on several diverse segments of Louisville's population -- from Irish, Jewish and African-American communities and beyond. In the late 1800s many Irish-Americans settled the area near the newly opened Louisville and Nashville (L&N) freight yard. Located within Limerick are two historic and significantly important African-American educational institutions. The Central Colored School, the first publically funded African-American school in the commonwealth of Kentucky (1873), is located just across the street from Our Place Ben Washer Park. Also, Our Place Ben Washer Park is just a block away from Simmons College of Kentucky (1879). Today, there are approximately 1,200 residents, of which about 65% are African American, 25% are White, and 2% are Hispanic (city-data.com). Bound by Park Hill, California, Old Louisville and the Central Business District (CBD), Our Place Ben Washer Park is within the SoBro (South of Broadway) district, a part of Louisville receiving much attention of late. With the impressive growth of both Spalding University and Simmons College figuratively hugging the neighborhood, Limerick is poised to become a unique cultural hub.

Here's Where We Started

Partners and Supporters
Metro Parks

West St. Catherine Neighborhood Association

Limerick Association for Neighborhood Development


Metro Council District 6 - Councilman David James

City Think

Uncharted Play


Sponsors